Making my own wrapping paper for the holidays (or for any occasion) is so much fun, super easy, and is a great way to be an ecologically conscious role model. Think of all the paper and trees we can save if we were all re-using our precious resources instead of tossing them into our landfills. What's really cool is that the people who receive gifts wrapped in this paper definitely DO NOT throw it away. It gets re-used again and again so that multiple people receive the benefit of these wonderful papers that are a gift in and of themselves. I particularly love how surprised people are after carefully unwrapping their gift and discovering that the stamping is done on an ordinary piece of newspaper. The printed newspaper provides another layer of visual texture below the stamped layers, but doesn't detract from the overall look of the wrapping paper. Try it with a group of friends, with your kids, or classroom students. I assure you that everyone involved will have a blast!
*Tip: If you need larger sheets of paper, purchase a newsprint end roll from your local newspaper office. They have lots of it, and sell it for an extremely reasonable price.
I taught a workshop on Maui last November in which participants got to make their own holiday papers. I brought lots of supplies for them to choose from, sparking ideas for other things they could use from home. We all had so much fun that I decided to make this workshop a yearly event. This year's class will be held on Saturday, November 23, from 11-4 so if you're on the island please join us! A flyer with workshop details will be posted soon.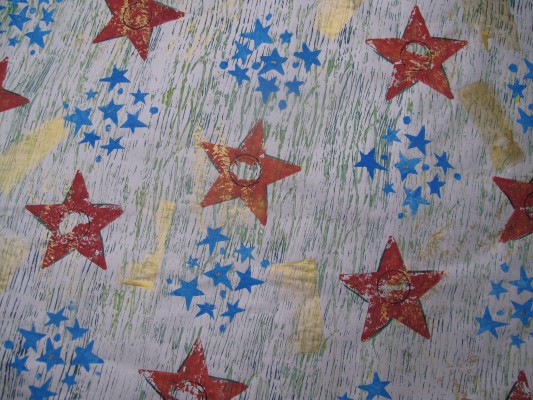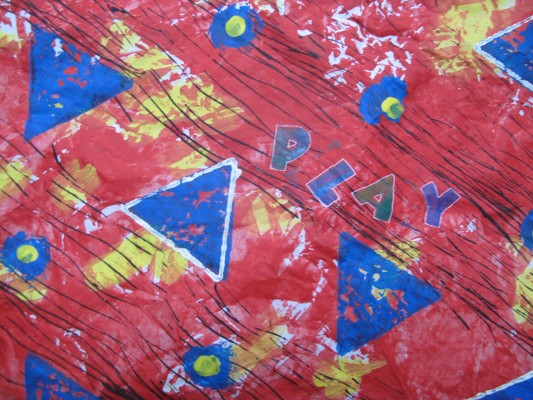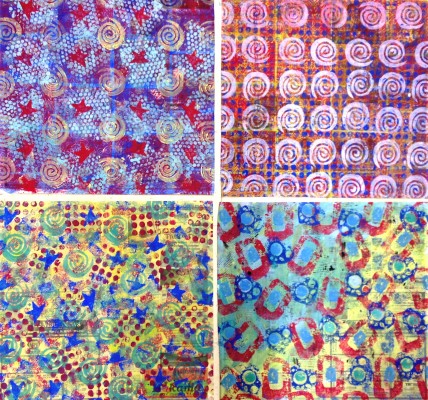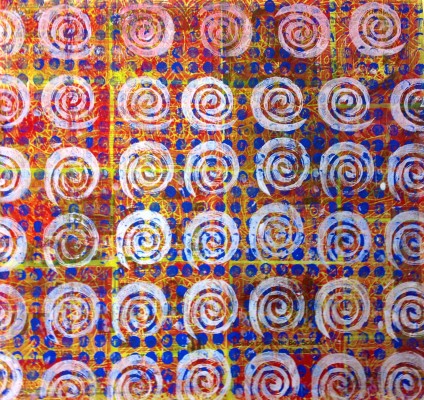 I use inexpensive foam rollers to roll out my paint (liquid craft acrylics or leftover acrylic latex house paints are great!) in a Styrofoam meat or fish tray. Apply to everything from bubble wrap, string or rubber bands wrapped around a dowels, and stamps made from Styrofoam takeout trays. The sky's the limit. Once you try a few household items, you'll start to see that there are a zillion things that you can use to make fabulous designs on paper.
*Tip: Before getting rid of an old pair of shoes or flip flops, check out the soles for amazing printable designs. Just roll on the paint and print onto your paper!
Below are a couple of the items I use for printing. Styrofoam takeout trays have a flat top and bottom that can be cut into smaller rectangles for printing. Just use a dull pencil to draw your design into the foam, then roll on the paint and press onto your paper. You can also cut shapes from the Styrofoam and clue to a piece of cardboard. The spiral design in the photo above was created this way.
The other photo shows dowels cut into short lengths and wrapped with everything from thin wire and rubber bands to string and ponytail holders. Finishing nails tapped into the ends help hold the ends of wire in place and also provide a handhold for rolling.