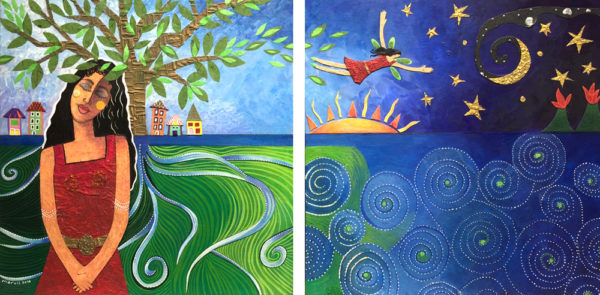 Mixed Media "Story Quilt": an overview 
Every day each of us is touched in myriad ways through our contact with other people and with our environment, but we often let these moments pass without acknowledging their significance. A cat basking in a ray of sunlight, a beautiful bird song, a word of encouragement, or the smile of a stranger remind us that we are not alone, that our lives are filled with grace and that every moment is sacred. Inspired by the African Story Quilt these works are the first in a series of mixed media pieces that chronicle significant events from my life in Hawaii as well as fleeting moments that made an impression or inspired me in some way. I have many other sketches in this Hawaii series waiting to be developed, and of course, there are many stories to be told from other times in my life. Although these stories are personal, I think they are also universal in nature and will be appreciated by many.
Like the story quilts I have seen in museums and in books, I wanted the essence of each experience to be conveyed in simple and symbolic visual language. Small pen and ink sketches were my entry point into the emotion surrounding each event. Remember, feel, draw. If it didn't feel quite right, I'd do another, revising with each subsequent sketch until my gut said "Yes!" I challenged myself to follow this intuitive thread when bringing the sketches into final form using mixed media techniques on panel. I'd search through my collection to find just the right marbled, embossed, silkscreened, or handmade papers to use as a backdrop or as part of the focal image in a scene. I cut and collaged these beautiful papers much like a story quilter might cut and sew fabric squares, but my tools also included acrylic paints, pastels, and pencils, finding my way into a story that might have gone unnoticed had I not taken the time to acknowledge it by bringing it into form.
This mixed media story quilt will continue to grow and although each piece of my story may go home with a different person, this is where I'm grouping them together so they may be enjoyed as a whole. Whether they are seen as a unit or individually, I am reminded that the fabric of all our lives is stitched together through our experiences, emotions, and shared humanity.
A note about the African Story Quilt…
In reading "The Invention of Wings" by Sue Monk Kidd, (set in my hometown of Charleston, SC), I was greatly moved by the story of an enslaved woman, seamstress to a plantation family, who kept her spirit and that of her ancestors alive by chronicling significant events in her life, some beautiful, some unspeakably sad. She created a story quilt, like her mother and grandmother before her to remind her of the stories and people who helped shape and define her throughout her life. This historical tradition of story quilting allowed the maker to "wrap her memories around her" and pass this visual memoir down through the generations of those who came after.