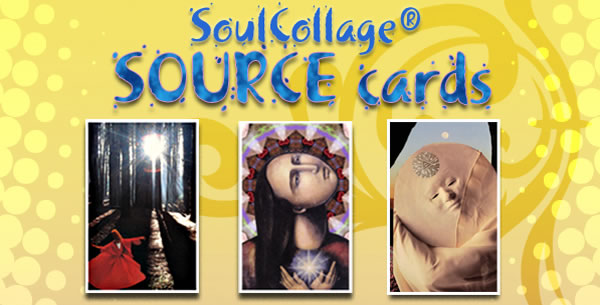 Saturday, June 2, 2012
The 3 Source cards in the SoulCollage® deck – Source, SoulEssence, and Witness symbolize the Oneness of all things. They are Transpersonal cards that have "no form and therefor no potential for Shadow* as do the other cards we create.
Working in silence will be an important ingredient when we gather together to create these Transpersonal Source cards, allowing a shift in our awareness to that place of vastness, peace, and solitude where we more readily experience our connection to the Divine.
Source symbolizes the "Mystery out of which all forms arise and back into which they return."
SoulEssence represents the spark of Source existing at the core of every Soul; your special potential.
Witness is the potential for conscious awareness in every human being. When developed, it enables us to step back and see ourselves without evaluation. It is simply a mirror that allows us to view ourselves with detachment, does not judge us, and is silent.
Those who complete their Source cards early are welcome to coninue making other cards to add to their sets.
LOCATION:
Makawao Union Church Hall
1445 Baldwin Ave, Paia, HI
Google Map Link
DATE:
Saturday, June 2, 2012
TIME:
10:00 am – 4:00 pm
FEE:
$75 (Includes hundreds of images to choose from, blank cards, clear protective bags)
BRING:
Glue stick, scissors, notebook, pen
Download a printable flyer here. (PDF)
*Shadow: Parts of ourselves that can fall out of balance. Often vital, passionate energy emerging from our primitive and instinctual nature, it resists repression of "civilized" ways and can manifest in exaggerated and sometimes highly creative ways.