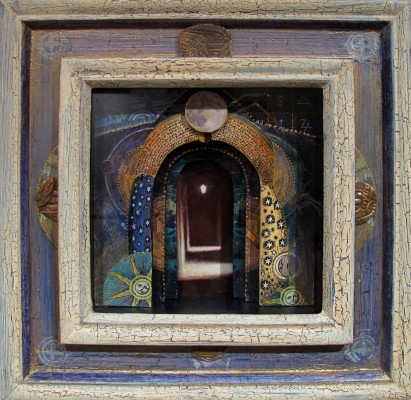 I'm intrigued by unusual doorways and windows, and like to explore them in my work. Sometimes I'm inspired by doorways I've seen; sometimes they evolve out of my imagination.
This particular piece, "Threshold", was inspired by a passage I read in "Traveling with Pomegranates", a book written by Sue Monk Kidd and her daughter Ann Kidd Taylor. Sue spoke of their journey to Gavrinis, a tiny island in France, to see an ancient burial chamber known as the "tumulus". She described the carvings on the stones; in particular, a series of concentric arches representing the birth canal. The connection between death and birth was so beautifully articulated that I had to look for pictures of the tumulus online. The images far exceeded what I had envisioned in my mind's eye, and became my jumping off point for the piece.
The shadow box itself is only a few inches deep, but I wanted to give the feeling of walking into a deep passage. I used a jigsaw to cut three arches from hardboard (Masonite that's smooth on both sides), making each opening a bit smaller than the one in front of it. This gave me some of the depth I wanted, but not enough to satisfy me. Remembering a photo I'd taken inside a corridor in a mud mosque in Tombouctou, Mali, I placed the image behind the arches; the result is just what I was hoping for! Once I had the layers figured out, I went back and created collages to cover each of the arched doorways.